AuraSilk
Rising star, Dr. Ben Talei, has transformed hundreds of lives with his plastic surgery skills.
After extensive research and testing, he is now bringing his talents to thousands with the introduction of AuraSilk.
Complimentary Shipping for Domestic and International Orders
More information...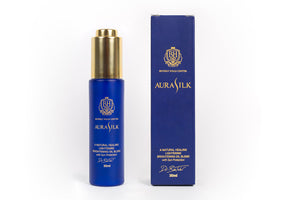 AuraSilk Oil
Sale price Price $175.00 Regular price
"I've always had sensitive and dry skin. This oil has improved my skin quality and made my skin glow. THANK YOU"
"I love wearing tank tops and cut offs at the beach or the gym. I started using this oil for the eczema on my deltoids and within a week I saw improvement in my skin. I am forever grateful for this oil and for both Dr. Talei's."
"I can't stop using this oil! I use it for any issue my skin has and it has never let me down.  An oil that does it all.
"Love this oil! My skin can't live without it!"
Models Ava Lane and Meredith Mickelson use AuraSilk!